Case Study: Road Trip Week
Goal: Road Trip Week sought to provide quality editorial on one of the most frequent types of family travel, while showcasing our favorite travel gear, services, and hotel brands and offering parents incentives to purchase or utilize them. 

Road Trip Week has lived on the Trekaroo blog since 2012, and has grown every year. Each year offers families a manageable theme, ranging from specific road trip itineraries to popular road trip destinations such as national parks and historic sites. In 2014, our editorial team put together no fewer than nine Road Trip Week posts, with room for 10+ sponsors.
Road Trip Week 2014 focused on travel tips, featuring a popular gear guide, fun giveaway featuring Jucy rentals, and multiple in-depth articles on useful road tripping products and services families could try immediately. We provided important information on driving safety, ways to stay in contact in service-free zones, and ways to find fun pit stops en route.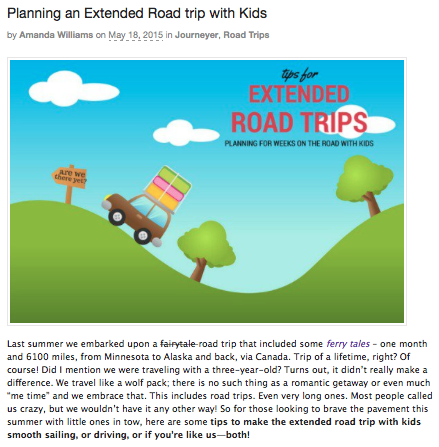 Our sponsors were able to include incentives families could take advantage of before the busy summer road trip season, converting website visits to tangible sales. Each sponsor was featured in an article spotlight or in the gear guide, with dedicated social media amplification and inclusion in the popular Road Trip Week Weekly Digest e-newsletter to our subscribers.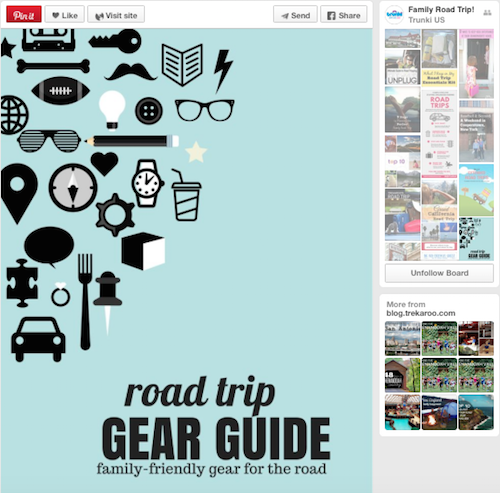 Our Road Trip Week Pinterest board took center stage during the week, bursting with content families needed at their fingertips. Each Road Trip Week sponsor received detailed stat reports listing measurable results.