Case Study: Shenandoah Kids Trail Blog Tour
Goal: To generate awareness and social media buzz around the Shenandoah Kids Trail Guide by Go Blue Ridge Travel, and to provide families within driving distance with inspiration and resources to plan a 48-hour getaway in the Shenandoah region.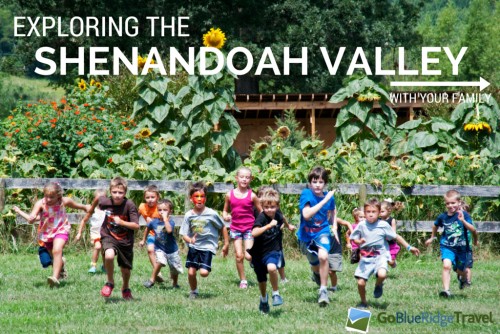 The Shenandoah region is known for its stunning beauty and Go Blue Ridge Travel is a leading resource for planning travel in the region. Go Blue Ridge Travel turned to Trekaroo to help get the word out about the freshly-minted Shenandoah Kids Trail guide. We were charged with building awareness, driving engagement, and boosting long-term referral and SEO around the Shenandoah Kids Trail.
Trekaroo selected five key influencers from our Trekaroo Influencer Network (TIN), all of whom live within Go Blue Ridge Travel's key target markets (a 3-4 hour drive distance from Shenandoah Valley). A mix of strong lifestyle, food, craft, and parenting bloggers were handpicked to tell the family experience of a weekend in Shenandoah from a variety of perspectives. Coupled with Trekaroo's reputation for trusted family travel advice and editorial guidance, we delivered a multi-phased campaign.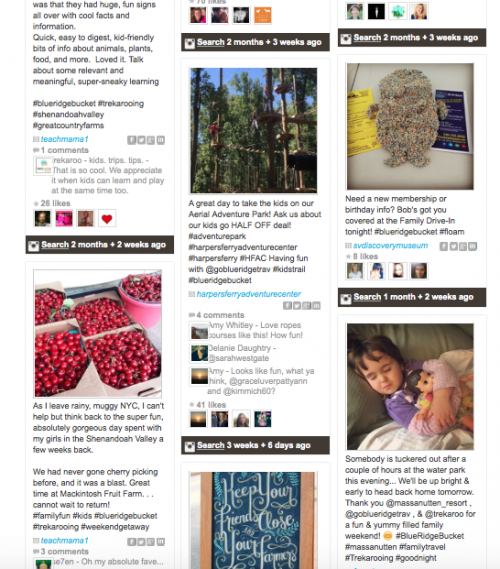 Live feed of TIN social media on the Shenandoah Valley Kids Trail landing page prompts immediacy and excitement with readers.
Live social media Phase
Working with the Go Blue Ridge Travel team, we crafted the ideal family weekend itinerary for each blogger based on their blog's focus. During their visits, influencers showcased their unique Shenandoah Valley experiences via photos and video on Instagram, Twitter, and Facebook. Engaging with local partner businesses, fellow influencers, Go Blue Ridge Travel, and Trekaroo, they sparked authentic social conversations in real time. Influencers used the #BlueRidgeBucket hashtag so that Bucket, the mascot of Shenandoah Kids Trail, would own this hashtag and set the stage for future use.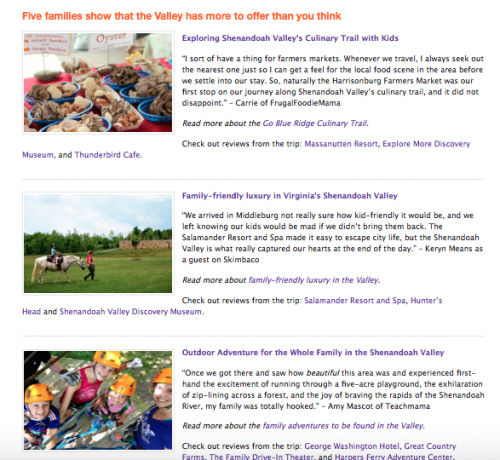 Sampling of TIN blogger travel stories using the Shenandoah Valley Kids Trail for inspiration.
Blog Tour Phase
A month later, during peak summer travel season, Trekaroo and all five participating influencers, launched the Shenandoah Kids Trail Blog Tour.  Each blogger wrote a story about their unique experience of the region, plus practical reviews on Trekaroo. An additional three travel guides – historic & natural fun on the Kids Trail, 48 Hours in Shenandoah County, and Shenandoah Valley Summer Music & Theater Festivals— published on Trekaroo, providing additional trip planning advice. An exciting giveaway sponsored by Massanutten Resort, a favorite family resort in Shenandoah Valley, incentivized readers to engage with multiple stories to discover the breath of experiences to be enjoyed in the region. The editorial team worked closely with bloggers to ensure that each story was unique, well written, and promoted the Shenandoah Kids Trail guide as a go-to resource for planning a family trip to the Shenandoah region.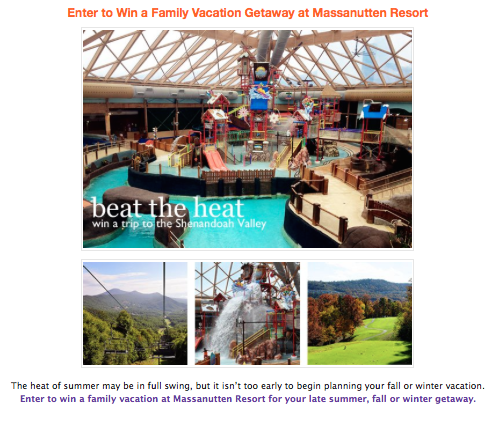 THE SHENANDOAH KIDS TRAIL INFLUENCER TEAM OF 5, REACHED AN
AUDIENCE OF 1.3 MILLON

WHO ENGAGED AND SPREAD THE MESSAGE TO A GREATER

AUDIENCE OF 4.6 MILLION

IN JUST THREE MONTHS THE SHENANDOAH KIDS TRAIL NOW RANKS #1 and TREKAROO RANKS #2 FOR THE KEYWORDS "SHENANDOAH KIDS".

The #BlueRidgeBucket campaign successfully painted a varied and vibrant picture of the array of activities awaiting families in the Shenandoah Valley, and educated potential visitors in key markets on utilizing the Go Blue Ridge Travel Kids Trail to plan their own multi-day vacations.

Our client, Nancy Craun of GoBlueRidgeTravel.com, had this to say:
Having five professional Mommy bloggers with their families descend on the Shenandoah Valley made the diversity of family trips REAL here in the Shenandoah Valley.  With Trekaroo added to our own google/ social media blitz a 253% increase over the previous year was achieved. Hats off to Trekaroo for a job well done!